The many trailers leading up to the release of TF2 made it look like a very fun game, and maybe for some it is, but for me, it was sort of a let down.
The graphics are quite good, and the cartoony approach makes the game less serious, unfortunately this just brings in a bunch of nine year old kids high on red cordial. I will admit that im no 1337 pwnerer when it comes to this game(unlike DC
), and I will need plenty of practice to get better. I was expecting this game to be a lot better because there are no grenades. I was wrong. Spawning as demoman gives you the choice of using your standard grenade launcher, or shooting a crapload of sticky bombs that you can choose when to detonate. The standard soldier's main weapon is a f*%#ing rocket launcher, here we have an infantry only game, with a semi-automatic rocket launcher as a default weapon. We also have the Scout, which is basically the soldier with speed hacks and a crappy shotgun instead. The game is too fast paced and the maps are too small and complex to use my favourite kit
, the sniper. Next we have the Heavy / Medic team. Basically you have a huge bitch standing there with a massive minigun and a medic by his side constantly healing him, and using his uber watcha ma call it to make him invulnerable.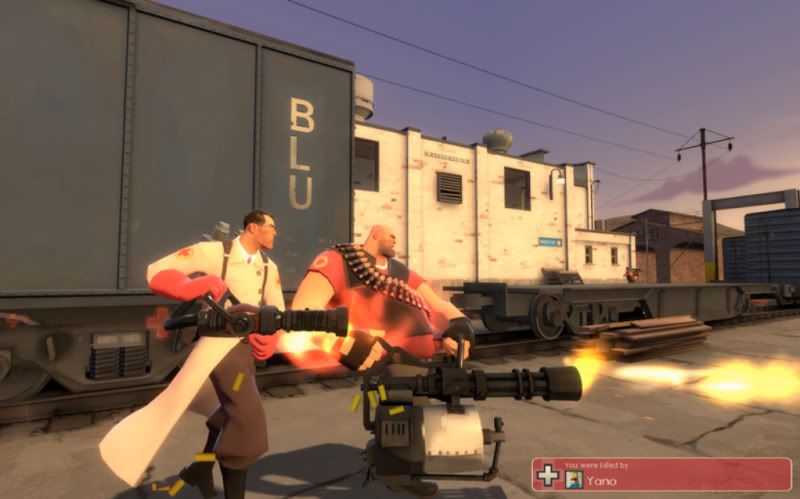 From the rounds that I have played this is basically it: Capture control points, set up 400000000000000000 gun turrets, and run around with sticky bombs and rocket launchers trying to blast the crap out of everyone while a bunch of scouts evade everyone. It seems the only way I can manage to rack up a half decent amount of kills is to choose the spy kit, go invisible and run into a bunch of 5 enemies (they like to stick together) and try and knife one. Although this is easier said than done. It takes nearly a second to come out of cloak, and then you can be standing right behind them, knife them and it misses them, and with nearly everyone in the whole fu*@%ng server bunny hopping, it makes it just that bit harder. Also im yet to find a sprint or run button, so this means your target has to be stationary otherwise you cant catch up to him, and its pointless running after him because by the time you catch up his buddies will be on your ass like a catholic priest and a small boy. Maybe my view will change if I actually bother to get better at this game, but it seems the cartoon graphics have appealed to the retards of australia, and their kids. Each time you enter a firefight your screen is filled with trails of rockets, guts on the ground (which is kinda cool), and grenades and sticky bombs at your feet with every step. Really the best thing about TF2 that i could find was the fact i could use all the models in garry's mod.
Final thoughts: If your into blood and guts, fast paced retarded gameplay, with mainly rocket launchers, then this is the game for you, if not, its worth it just for using in garry's mod
, and i must admit, who doesnt like cloaking then knifing some guy when he leasts expects it
Since getting this game ive only played a couple of hours, it just doesnt have the appeal to me that i was hoping it would. Who knows maybe one day ill get on, try it a bit more and find i like it, but for now its just not quite what im looking for.
This post has been edited by SMG13: 25 April 2008 - 10:27 PM